Delicate, refined work typical of the Kyoto hyogu tradition
Restoration
The process of restoration carries the risk of losing the inherent flavor or beauty of the artwork, depending on its current state and how it was originally produced. We carry out such work with the utmost care, first carefully listening to client wishes and then proceeding only after carefully studying appropriate methodologies. The first priority is always protection of the artwork.
Stain removal(washing)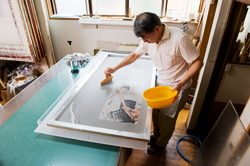 Removal of mold growing on the surface or other stains on the work. Stain removal methods depend on the type and origin, with experience helping to determine the best option.
ExampleⅠ(Chikkyo Ono painting)
Before stain removal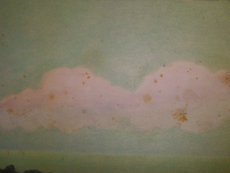 After stain removal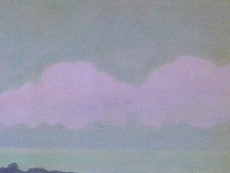 ExampleⅡ(Chikkyo Ono painting)
Before stain removal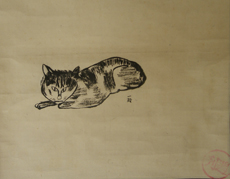 After stain removal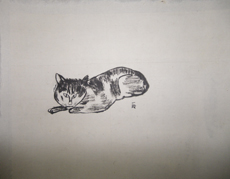 Soot removal
Older works can be covered with black, red, or brown layers of soot through long exposure to smoke. We take period color into account when restoring these works in order to maintain their character.
Repairing insect damage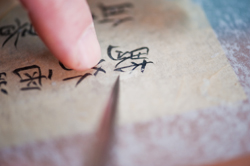 We repair damage caused when wood ticks beetles and other insects eat away materials by filling in bore holes with identical materials. If the material is silk, we use fabric with the same finish and strength, and with paper we use a sample with the same thickness and texture. Differences in thickness between repaired portions and the rest of the work can result in creases, so we ensure that all transitions are smooth. If necessary, we tone the new materials to match the original.

Before restoration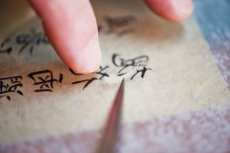 After restoration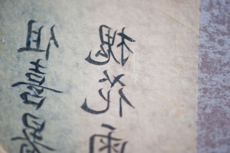 (photos show the back side of the calligraphy during the repair process)
Repairing creases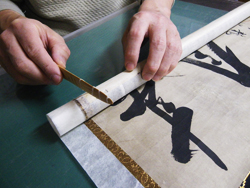 Creases are a source of wear and tear that can fatally damage a work of art. We prevent such damage ahead of time using fine strips of washi paper to strengthen these areas in a traditional technique called ore-fuse.
Before restoration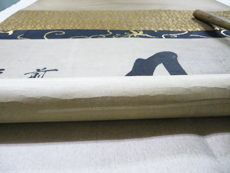 After restoration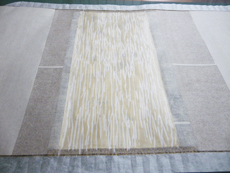 In-painting(preventing pigment deterioration)
In-painting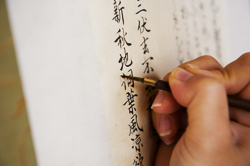 In-painting is performed to hide repaired areas. Adhesive agents may be applied if there is danger of paint flaking away from aged paper.
Before restoration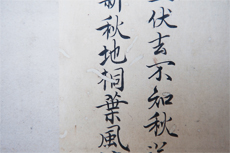 After restoration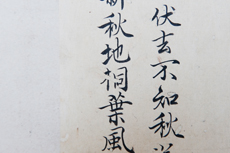 Remounting
A work can be completely refurbished if the current mounting is extremely damaged or if it does not show off the original artwork to its best advantage. This completely rejuvenates the work, from backing to mounting and scroll fabric. We consult with clients to bring a piece of art back to life again with texture and quality that only Kyoto hyogu can provide.
Before renovation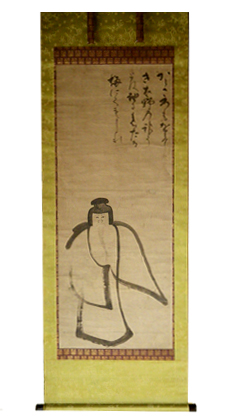 After renovation
New mounting(framing and mounting)
Hideyoshi Kitaoka can also take an unmounted piece of calligraphy or painting and use his unparalleled experience and technical skill to transform it into ascroll-mounted or framed piece of art that will live in your collection and provide aesthetic enjoiment for years to come.
Main process in creating a new scroll

Choosing fabric

Backing

Putting together

Over backing
The traditional mounting process has eight styles, but Hideyoshi kitaoka is also capable to using alternate techniques to create a mounting that best fits your individual piece.

Finished Work
Main process in framing a work

Designing the frame

Mounting paper to the matte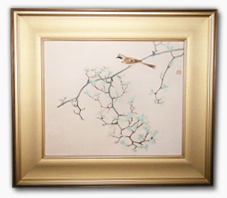 Finished work
Main process in creating a new folding screen

Structural framing

Underlaying

Hinging

Outer framing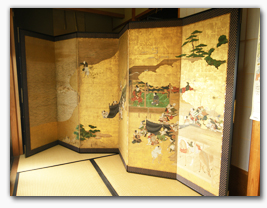 Finished work/Six-section screen
Other
hand scroll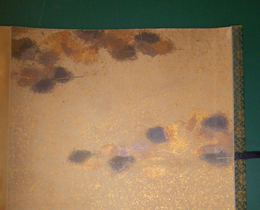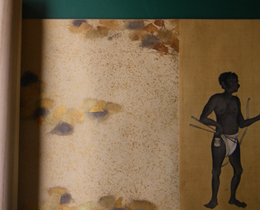 Fusuma・shoji・booklets・dividers